Debate moderator Steve Scully is caught up in a Twitter controversy after he apparently sent a tweet to anti-Trumper Anthony Scaramucci seeking advice on how to deal with President Trump. However, the Co-Chair of the Commission for Presidential Debates (CPD) now claims that someone hacked Scully's Twitter account.
Adding credence claims that Scully, a former Biden Senate intern, lacked the necessary objectivity to moderate the second scheduled Presidential debate, Twitchy reported on the Twitter controversy. Apparently, Scully sent a since-deleted tweet to former Trump communications director Anthony Scaramucci seeking advice on how to deal with President Donald Trump: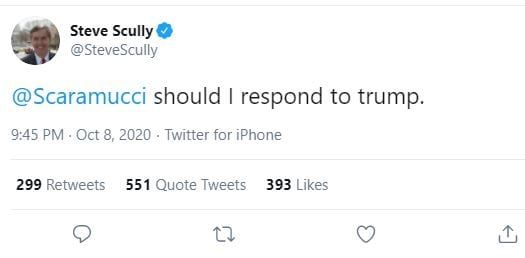 Scaramucci tweeted back, "Ignore. He is having a hard enough time. Some more bad stuff about to go down." It is not known what, if anything, Scaramucci was referring to in his tweet.
Some speculated that Scully meant to send Scaramucci a private Direct Message, but instead made his message public on his Twitter timeline. Observers on Twitter watched this unbelievable breach of objectivity happen in real time. (BTW, if not for Twitchy, many would not have known about this – so hat's off to them.)
But in a turn from the sublime to the ridiculous, Frank Fakrenkopf, the Co-Chair of the CPD, has publicly claimed today that Scully's Twitter account was hacked.
Our Take…
Do they think we are really this stupid?
The Twitter hack story didn't work for Anthony Weiner. It didn't work for Joy Reid. Why do they think it will work now?
It was bad enough that the CPD picked Scully, who once interned for then-Senator Biden, to moderate a debate involving his old boss. Pile this controversy on top, and you might as well conclude that the fix is in. Again.
This is just the latest example of media buffoons looking out for their own agenda.