One year after the January 6th Capitol riot, voters prefer former President Donald Trump over current President Joe Biden.
Political insiders often cite the RealClearPolitics polling average as the "gold standard" of political polls. It takes the most recent "reputable" polls and presents an average across the political spectrum.
Today, the anniversary of the January 6th "insurrection", the RCP Average for the 2024 Presidential election has presumptive Republican candidate, and reputed "Insurrection" ringleader, former President Donald Trump, beating President Joe Biden.
The numbers are not good news for the embattled Biden, who saw a 30 point drop in favorability in 2021.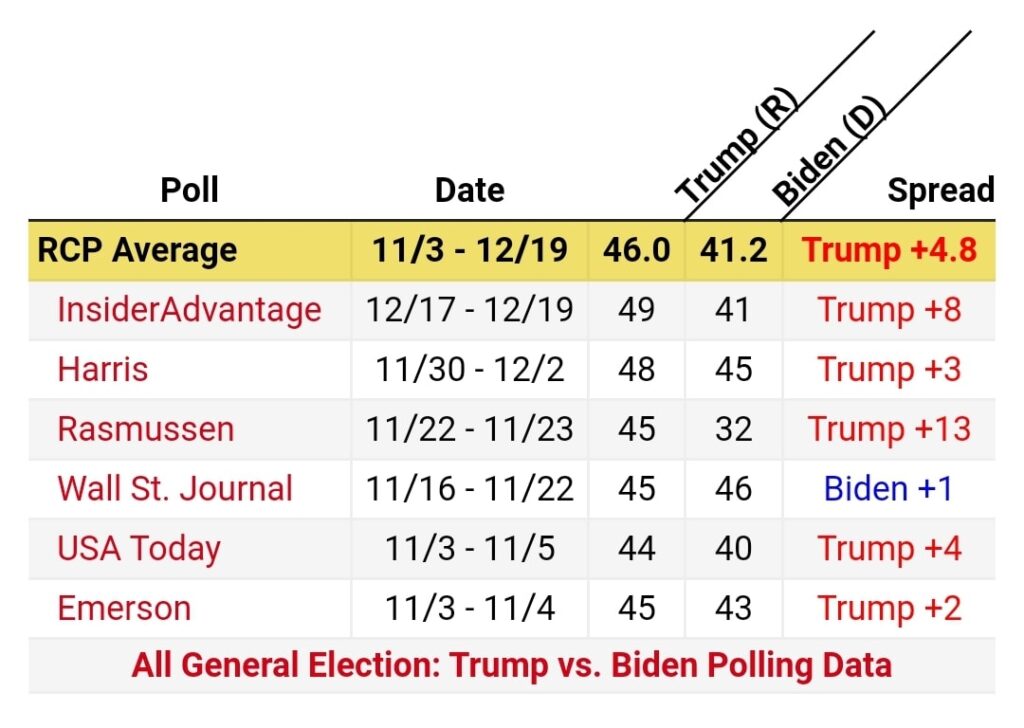 Our Take…
The Hill's Joe Concha sums it up:
" No president since World War II – not even Donald Trump – has seen such a massive slide."
Biden's buffoonery is off the Sharpton Scale. Inflation dominates the headlines. The supply chain is all kinds of screwed up. COVID remains out of control, despite campaign pledges of a return to normalcy. Speaking of campaign promises, Biden's words can be directly tied to the crisis on our southern border. The botched exit form Afghanistan cost American lives and was a global embarrassment. And the "Biden Gaffe Machine" keeps rolling along.
We should probably ask what didn't go wrong for Biden.
On this anniversary of the January 6th "Insurrection", let's call out the left's lack of focus on real issues. Democrats tactically kept January 6 at the forefront of their message to Americans in 2021. How did that work out for them at the polls? Not so well.
Perhaps Biden, the Democrats and the corporate media should start listening to voters instead of dragging out this insurrection narrative. Few outside of the Democrat's dedicated base seem to care.